Coach Infielders
The Right Way
Mariners Infield Coach, Perry Hill, shares the secrets to coaching infielders in an effective system that players thrive in.
Professional Baseball Coach
Infield Coach of the Year
Applicable Instruction Techniques
Teaching System That Works
There are so many specialized skills in the great game of baseball. It can be a challenge to take the skills we learned as children and share them with athletes as today's coach. Performing a skill is one thing, but it is an entirely different ballgame when you start trying to instruct others. With Perry Hill's Infield System, you will be given concrete teaching tools for success with your players.
Everything You Need to Coach Infielders
Our Base Membership gives you access to everything you need as an infield coach. Perry's Infield Manual, fielding ground balls and general infield skills are all covered for a ONE TIME fee.
Ultimate Infield
Videos from Coach Hill's instructional DVD teaching how to field ground balls.
Widely considered one of the best coaches in Major League Baseball, Perry Hill has mastered the craft of teaching players how to play infield.
Always Striving to Get Better At the Craft
Positioning or applying tags are some of the little things that make the big difference. Bone's Bonus Videos can be found in our Advanced Membership.
The continually growing Advanced Member Content Library takes you deep into the skills of the infield.
Easily accessible videos can be used to teach the advanced skills on the field or studied on your computer.
Our Advanced Members also get access to Bone's Bonus Videos using in-game plays to illustrate advanced infield skills.
2017 MLB Network Infield Coach of the Year
What People Say About Perry Hill
Player & Coach Testimonials
I had heard going in, 'Oh, Perry Hill is a great infield coach. . . .' And I'm like, how great can an infield coach be? But he really is, man. I just never thought you could teach infield as well as he does. If my son is into baseball when he's 15 years old, I'm sending him to spend a week with Perry Hill.
Aaron Boone
NY Yankees Manager
As far as infield guys, teaching positions and giving guys confidence, he's as good as I've seen.
Don Mattingley
Miami Marlins Manager
Perry Hill, an infield instructor of mine when I played for the Texas Rangers, is one of the best defensive coaches I ever have been around.
Billy Ripken
12 Year MLB Player - Current MLB Network Analyst
I have learned so much from Perry. He has a process and he brings it to life everyday. The genius is in the simplicity and the attention to detail from spring training until the last day of the season. He won't deviate and he doesn't get bored with the fundamentals.
Andy McKay
Seattle Mariners Director of Player Development
Your Players Deserve the Best Instruction
Deliver the Best with Gold Glove Defense

News from Gold Glove Defense
Blog
J.P. Crawford and Evan White both collect their first Gold Glove awards in 2020.
Read More »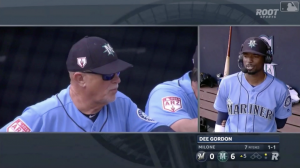 Blog
Dee Gordon talks about reuniting with Perry Hill at Spring Training with the Seattle Mariners in 2019.
Read More »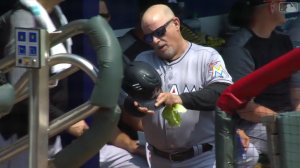 Blog
When it is hot in August, Perry Hill plants lettuce leaves in his helmet to help stay cool while coaching first base for the Miami Marlins.
Read More »