Published Feb. 26, 2016 – The New York Times – By Tyler Kepner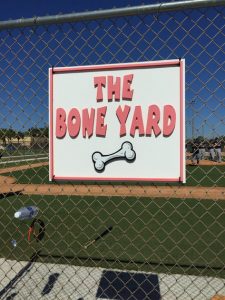 JUPITER, Fla. — Baseball is awash in data, and the game is better for it. Numbers reveal truths that broaden fans' understanding. Executives make better-informed decisions. Players with subtly valuable skills are appreciated more, and paid accordingly.
But it is nice to know there is still a place for people like Perry Hill, the infield coach for the Miami Marlins. Every night after a game, at home or in his hotel room, Hill unwinds for 45 minutes with a four-color Bic pen and a binder of handwritten fielding charts. He would prefer to use colored pencils, he said, but the lines would be too thick, and he must plot every ball put in play by every hitter the Marlins face, noting the pitcher, the count, the location and the type of pitch. The pages fill up fast.
"I'm just not very smart," Hill said this week, showing a visitor his markings for a rival team. "I've got to write it down myself so I'll remember it. They bring me all kinds of stuff from upstairs, but golly, if I look at it, it just doesn't tell me what I need to know."
The Marlins, who are trying to end a 13-year playoff drought — the longest among National League teams — have added Barry Bonds to their coaching staff as the hitting instructor. Bonds is among the most accomplished players in major league history, while Hill never played in the affiliated minors. He toiled for one season in the Gulf States League, where he hit .200, and five in Mexico. But Hill may be the Bonds of his profession, perhaps the best in the game at what he does.
Last season Hill mentored Dee Gordon, a subpar defender at second base for the Los Angeles Dodgers in 2014. Gordon was relatively new to the position and had struggled, in particular, with his backhand. He would field the same kind of grounder seven different ways in 10 tries, shifting his feet and arm angles, getting by on athleticism, but barely.
Then Gordon met Hill, absorbed his lessons, won a Gold Glove and signed a contract for $50 million.
"That dude is just amazing; I can't say it enough," said Gordon, who joins shortstop Adeiny Hechavarria in one of baseball's top double-play combinations. "He's the best coach I've probably ever had."
Hill has been called Bone since childhood, after his fondness for chicken wings, and he teaches infield here on the Bone Yard, a fenced-in diamond with no outfield. Chris Johnson, a veteran who plays third and first base, said he signed with the Marlins for the chance to work with Hill. Don Kelly, who has played every spot, knew of Hill from his rookie season in Pittsburgh when another coach, Jeff Cox, taught Hill's technique. The infielders wear T-shirts with one word across the chest: DEFENSE.
"When you've got some time in, sometimes coaches don't want to approach you and tell you what to do, because they're afraid you'll snap or not take it the right way," said third baseman Martin Prado, a 10-year veteran who joined the Marlins last season and made just seven errors in 297 chances. "But this guy here, he doesn't care who you are, or even if you're a Gold Glover. He just lets you know. He's successful because he wants to make sure you get better, no matter what you've done."
Hill has coached for Texas, Detroit, Montreal, Pittsburgh and in two stints for the Marlins, including for their 2003 championship team. Three of Hill's infielders then — first baseman Derrek Lee, second baseman Luis Castillo and third baseman Mike Lowell — won Gold Gloves after working with him. Castillo gave him his first trophy.
Hill's first Pirates team, in 2009, made the fewest errors in the majors. An Expos pupil, shortstop Orlando Cabrera, won a Gold Glove in 2001. When Hill joined the Tigers in 1997, they became the first team ever to go from worst to first in fielding percentage in consecutive seasons.
"Perry has such a stellar reputation in the game," the Marlins' new manager, Don Mattingly, said. "He's enthusiastic, he's detailed. I don't think there's any real tricks. He's a good teacher and he really loves infield."
Hill, 63, grew up in Hurst, Tex., before the majors arrived at Arlington. As a teenager he would pay 50 cents to sit in blazing heat at Turnpike Stadium and watch the Dallas-Fort Worth Spurs, the Class AA team of the Baltimore Orioles. Hill was drawn to future major league infielders like Bobby Grich and Junior Kennedy, and remembered their techniques years later, in the Mexican League, when he crystallized his coaching philosophy.
"When I was growing up, I would always have coaches tell me like 19 different things and I would just get overwhelmed, like, 'Whoa, whoa, whoa,' " Hill said. "So I tried to come up with one word that, as you did it, would take care of all those other words that they were saying, try to make it simple. That's where I came up with the six F's."
The Marlins' infielders all know the six F's. They are the cornerstone of Hill's message.
■ Feet: "Your feet have to be moving when the ball's hit, so you can get to the ball quick and take better angles."
■ Field: "When you field the ball, you've got to be wide. When your feet are wide, your glove is automatically out front. You have to see the ball and your glove in your peripheral vision, and you have to be wide so you can react to bad hops."
■ Funnel: "You funnel the ball to the middle of your body. Think about all these other sports. Where do boxers hold their hands before they throw their punch? How about a quarterback, when he takes a snap and goes back to pass, where does he hold the football when he's looking around? That's the perfect throwing position. That's where the hands break. My arm stays short, my elbow stays up and my hand stays on top of the ball. Three basic things, but you don't have to remember that. One word: funnel."
■ Footwork: "Placing your feet. I don't like to cross my feet when I throw. I call it replacing your feet — right goes to your left, left goes to your target, and it'll be at the same time."
■ Fire: "It's 'throw,' but I couldn't say, 'Five F's and a T.' "
■ Follow: "You always take one or two steps after you release the ball. When you follow through, it carries your head toward your target. You've got more momentum. If you let it go and snap back, eventually you're going to blow out your shoulder. So it's proper mechanics, ensuring that your ball goes all the way through, and it gives the ball a lot of carry."
During games, Hill watches his infielders deploy his tactics from the same seat in the dugout, marked by a strip of tape on which he draws a bone. Before games, Hill makes subtle divot marks around the infield so fielders know precisely where to go when he waves them left or right.
According to Baseball Info Solutions, the Marlins ranked 27th of the 30 teams last season in shifts on balls in play, with 300. Yet they ranked 12th in opponents' batting average on grounders and short liners, at .258. The discrepancy would seem to validate Hill's approach.
The Marlins do shift more now than they have in the past, and Hill will not criticize the leaguewide trend. But he believes in his methods, in the knowledge he gains with his pens and charts, and mostly in the players who listen.
"I've really been blessed with players," Hill said. "I've had some real receptive players that make the stuff look good."